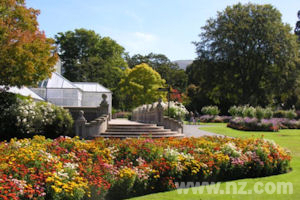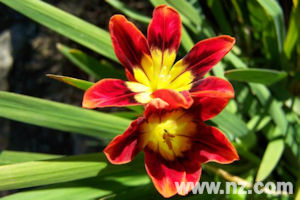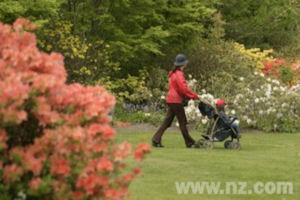 Dunedin Botanic Garden
Established in 1863, Dunedin Botanic Garden is the oldest in New Zealand. It is a lovely place for a stroll through a range of gardens, in a native forest setting. From the formal garden beds to the hillside native forest, the 28 hectares contain over 6,800 plant species. In 2010 it was recognised as a Garden of International Signficance for its excellence as a public garden as well as for its botanical collections.
The beautiful Edwardian Winter Garden Glasshouse - containing tropicals, sub-tropicals, cacti and succulents - is a feature of the flat lower botanic garden. For a hands-on experience, the herb garden provides a delightful array of scents and textures as well as information on traditional uses for herbs. Nearby are the formal rose garden and camellia collection. Lindsay Creek rambles alongside the rock garden which basks in afternoon sun.
Crossing the creek, well formed paths lead to the native plant collection, which includes threatened plants, alpine and wetland plants as well as native forest species. Adjacent to the native plant collection in the upper botanic garden is the geographic collection with plants from Africa, America, Asia and Australia. From its earliest days, Dunedin Botanic Garden has featured a renowned Rhododendron Dell.
The Dunedin Botanic Garden experience is rounded out by beautiful hillside views, sunny manicured lawns, a bird aviary displaying native and exotic birds, information centre selling postcards and a café.
The garden is located in North Dunedin, just over two kilometres from the Octagon. A regular bus service operates from the city centre to the north end past the botanic garden.
The garden is open daily from dawn till dusk and entry is free.
Featured Dunedin Botanic Garden Events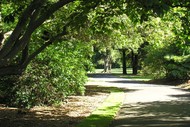 Craft & Object Art Events
Dunedin Botanic Garden, Dunedin

Today to Friday 30 September 2022
Curious and motivated children investigate leaves and trees on a grand scale, through drawing, painting and printing. This exhibition is a collaborative effort showcasing the artwork of twelve 4-year-old children from... More...

---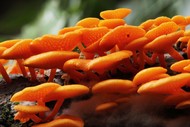 Public Talks & Tours Events
Dunedin Botanic Garden, Dunedin

Friday 7 October 2022
Who lives in our soil? How does this amazingly complex ecosystem support all of life on earth? Learn how we can support soil for the benefit of all ecosystems and our own health. Michelle Cox, educator in... More...

---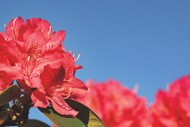 Markets and Fairs Events
Dunedin Botanic Garden, Dunedin

Sunday 16 October 2022
There's plenty of blooming good fun to be had this Rhododendron Day – Sunday, 16 October! Plant Sale: 9am – 1pm Grab a bargain, rain or shine. Plant stalls, food, coffee and entertainment. BYO recyclable bags... More...

---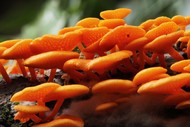 Public Talks & Tours Events
Dunedin Botanic Garden, Dunedin

Friday 4 November 2022
Discover the joy of foraging for food in the green spaces of Dunedin, and how to safely create delicious kai from ingredients found on a nature walk (but sorry, not from the botanic garden). Danie and Josh Urquhart,... More...

---

Tour Dunedin

Tour Dunedin Area
Beautiful Panoramic views
- Apartment.
Set in Dunedin, 3.8 km from Toitu Otago Settlers Museum and 6 km from Otago Museum, Beautiful Panoramic views offers...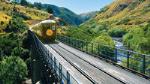 Dunedin Shore Excursion: Taieri Gorge Railway and the Otago Peninsula Day Trip from Dunedin
- Ports of Call Tour - Dunedin.
Starting from $199.00 per person
.
This tour combines an unforgettable way to explore inland Dunedin by railway and also visit the stunning Otago...