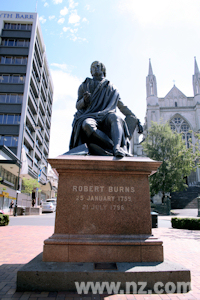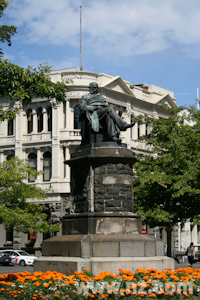 History of Dunedin
Unlike the English settlement of the rest of New Zealand, Dunedin was founded by the Scottish Free Church in 1848. While the city was originally to have been called New Edinburgh, 'Dunedin' is derived from the old Gaelic name for the same city. Dunedin's strong cultural links to its Scottish predecessor continue to this day, and this was recognised in 1974 when Dunedin and Edinburgh established a formal Sister City relationship.
Dunedin's unique wildlife was what initially drew European settlers to the area; Captain Cook's report of seals led to sealers from the beginning of the 19th century, and Otago Harbour was an international whaling port by the late 1830s. Today visitors are drawn by colonies of New Zealand Fur Seals, Yellow Eyed Penguins and Royal Albatross, which have an average wingspan of nearly 3m (9.8 ft).
The city's surveyor, Charles Kettle planned the city to be an Edinburgh of the South, to create beautiful views over the town centre and its dramatic harbour setting. Its success lies in a flat central city, The Octagon and the Town Belt, a strip of natural bush and parks that separates the city centre from its hilly suburbs. The plan often disregarded the very hilly terrain, and its most famous result is Baldwin Street, recognised by the Guinness Book of Records as the steepest street in the world.
In 1861 gold was discovered nearby, and the consequential gold rush led to a great influx of population and trade. With a booming economy Dunedin soon became New Zealand's biggest and wealthiest city. During the 20th century the city's growth slowed significantly, leaving behind a rich and unreplaced tapestry of Edwardian and Victorian architectural heritage. Large churches and public buildings were built with elaborate ornamentation, while houses around the central suburbs competed to have the most daring and decorative mix of architectural styles. The Dunedin Railway Station, built in the Edwardian Baroque style, is Dunedin's most famous monument to its Golden Days, and New Zealand's most photographed building.
Dunedin is full of colonial firsts, such as New Zealand's first Botanic Garden, established in 1863. It set a trend for public gardens around the country and was recognised as a Garden of International Signficance in 2010. The University of Otago, New Zealand's oldest and most beautiful university, was set up in 1869, whilst New Zealand's first frozen meat export left Port Chalmers in 1882, an industry that is now one of New Zealand's biggest.
Tour Dunedin

Tour Dunedin Area
Alhambra Oaks Motor Lodge
- Motel.
Just 2 minutes' walk from the Otago University, Alhambra Oaks offers accommodation with 50+ satellite channels and free...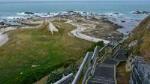 Customizable private land transfer
- Transfer - Nelson.
Starting from $3800.00 per person
.
Travel from port of call/ disembarkation with a private vehicle and transfer to your port of embarkation....