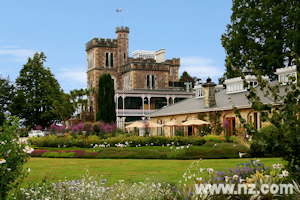 Larnach Castle
Built between 1871 and 1886 for local businessman and politician William Larnach, this unique manor house could only be found in Dunedin. The house's Scottish Baronial style is juxtaposed with large ornate verandahs skirting its stone walls, a very colonial touch. Bought by the Barker family in 1967, the homestead and its surrounding gardens have been lovingly restored and opened to the public. Its striking peninsula location, beautiful architecture and famous gardens make Larnach Castle one of Dunedin's premiere attractions.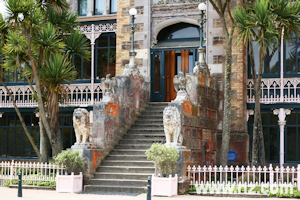 The Castle
Sometimes known as Larnach's Castle, construction began in 1871 and took three years and over 200 workmen to complete. The interior was crafted by masters from Europe, who spent 12 years carving and embellishing its 43 rooms with the finest materials from around the world; Italian marble, glass from Venice and France, Welsh slate for the roof, and floor tiles from England. The house was finished with richly coloured native New Zealand woods, and is today the house is decorated with a large collection of antique New Zealand furniture.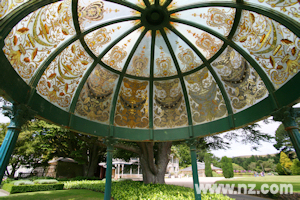 The Gardens
The gardens are the creation of owner Margaret Barker, a collection of eight theme gardens ranging from primitive native rainforest to period-style formal gardens that showcase both native and exotic plants. The South Seas Garden, planted with some of New Zealand's most unique fauna from its coasts and off-shore Islands, has spectacular views over the Otago Peninsula and across the Harbour; from Port Chalmers all the way out to Taiaroa Head. The various gardens come into their own in different seasons, so there's something new to discover all year round.
How to get to Larnach Castle
Many tours around the Otago Peninsula include a visit to Larnach Castle. Both guided and self-guided tours are also available, with admission on entry. Below are directions to get to Larnach Castle from Dunedin's city centre, The Octagon:
Featured Larnach Castle Tours & Activities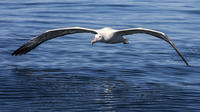 Castle - Dunedin - Starting from $245.00 per person

Start at Port Chalmers to experience the pure beauty of Dunedin on a fantastic tour of rich heritage, spectacular scenery and unique wildlife. The tour includes a 2 hour wildlife cruise designed for small groups to see unique wildlife of Otago harbour. You will experience memorable landscape of Otago Peninsula with amazing string of rugged beaches, bays. Your knowledgeable guide will show you the most breathtaking views. Your tour will include an entry to the garden of the only castle of... More...
---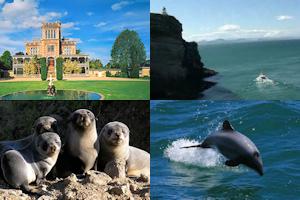 Sightseeing Cruise - Dunedin - Starting from NZ $125.00 per person

An unforgettable experience awaits, the highlight of your Dunedin visit! Enjoy a fully guided tour of New Zealand's only castle, Larnach Castle, built in 1871, followed by a Wildlife cruise on NZ's most picturesque harbour and peninsula with Monarch Wildlife Cruises.

Be fascinated and exhilarated with the wealth of wildlife, dramatic views, so close, so natural - the only way to see it all - Otago Peninsula, Otago Harbour, Taiaroa Head with three time New Zealand Tourism Award winners... More...
---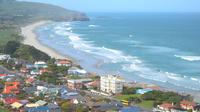 Private Tour - Dunedin - Starting from $750.00 per person

Enjoy Dunedin on a private tour, tailored just for your group of up to 6 passengers. A knowledgeable driver - guide will show you the best spots in Dunedin in a comfortable van. You will be very flexible and can spend any amount of time at all the stops.
There is an option fo a bigger group too.

Scenic drive through the city and on Otago Peninsula to view the most breathtaking views. You will enjoy a stop at Royal Albatross Centre (about 1 hour), the world's only mainland... More...
---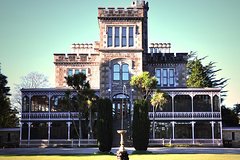 Historic - Dunedin - Starting from $145.00 per person

Enjoy a personalized small group tour of Larnach Castle and Dunedin City. This is a 6 to 7 hour fully guided tour that lets you explore Dunedin and Larnach Castle at a leisurely pace. Included is a fully guided tour of Larnach Castle's unique interior. Light refreshments and chilled water are included.
The tour takes in many interesting buildings and landmarks in Dunedin city such as the Larnach family tomb, the old University and all the main city attractions. The drive to Larnach Castle... More...
---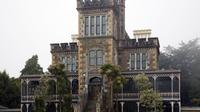 Maori - Dunedin - Starting from $145.00 per person

Dunedin Onshore Cruise Tours for your small group of up to six or 11. Heritage and Wildlife abounds and enjoy a personal and fun tour with you local chauffeur/guide. 


Dunedin welcomes you to the delightful Port Chalmers and  the  many unique aspects on your special day tour. 
Whatever your interests surround yourself with the Scottish feel of this region.

Your Chauffeur will take you on a historical journey of beautiful landscapes, stunning Port Chalmers high top views and... More...
---

| | |
| --- | --- |
| Tour Dunedin | Tour Dunedin Area |
Treetops B&B
- Bed and Breakfast.
Treetop B&B features free WiFi and complimentary in-room breakfast. All rooms have a patio with magnificent views of...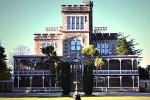 Small Group Larnach Castle Tour
- Historic - Dunedin.
Starting from $145.00 per person
.
Enjoy a personalized small group tour of Larnach Castle and Dunedin City. This is a 6 to 7 hour fully guided tour that...